What We Do
---
Our Programs
Athens Habitat has 4 basic programs that contribute to our mission – Affordable Homes, Renew Athens, AIM, and Brush with Kindness.
With our Affordable Homes program, our longest-running program, we construct decent and affordable living. Our homes are decently-sized but relatively small to keep construction and maintenance costs low. Also, we use locally available building material in these homes.
When assessing homeowner eligibility, we consider need for
a house, ability to pay, and sweat equity.
Homeowners must be in the financial position that they cannot otherwise afford decent housing,
but in order to allow Athens Habitat to sustainably continue its mission, they must also be able to pay our very low, zero-interest mortgages, the typical payments of which are just under $400. We also consider "sweat equity". It's a common misconception that Habitat gives away homes. Really, when we build a house it is in partnership with the future owner. They work with us on the build site or in one of our ReStores.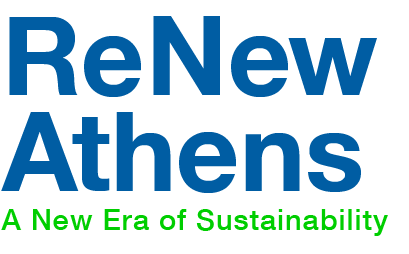 With our ReNew Athens program, founded in 2009, we offer affordable rental options for low-income individuals who aren't yet ready to afford a mortgage. It's a first step on the way to home ownership. We provide environmentally conscious renovations of existing multi-family units,
as well as housing opportunities for people who earn close to minimum wage. This revitalizes local neighborhoods.
For example, the Magnolia Terrace neighborhood is the latest Renew Athens Project.
This neighborhood comprises 20 units with close access to grocery stores, health care, schools, local library, and public transportation.
With AIM, the Accessibility Improvement Modification program, we take referrals from HED and Multiple Choices for Independent Living and install access ramps and other home modifications for low-income, physically disabled individuals to improve their quality of life.
This program was also founded in 2009 as "EHARP".
Through our Brush With Kindness program, we help struggling homeowners to make needed repairs to the interiors and exteriors of their homes. Our available home repairs include: exterior painting, roof repairs, window/door repairs, and general safety repairs. This program was founded in 2017.
Why Does Homeownership Matter?
Homeownership Is a Proven Way To Battle Poverty:
Homeowners are more capable of accumulating wealth, and they have higher civic engagement, better physical health, and are less likely to be victims of crime. Once a family owns a home, they are more likely to protect this new asset. Because property value is determined by both structure quality and neighborhood character, homeowners are more likely to engage in the community in a positive way to ensure the value of their asset remains high. Increased homeownership boosts both the local and national economies through increase property value and increasing the local tax base which improves public services. Children who live in a stable home tend to have better physical health, do better academically, and are more likely to be homeowners themselves as adults thereby ensuring future economic growth.
But people in poverty can only reap the benefits of homeownership if their ownership is sustainable. Athens Area Habitat for Humanity builds 3-bedroom homes for about $80,000 using a zero-interest mortgage, which includes the cost of land. This makes homeowner payments around $300 per month plus taxes and insurance. Partner families also provide a down payment of $500 as well as 500 "sweat equity" hours which are earned by working on Habitat job sites. Habitat helps families build homes of their own through sweat equity and a manageable payment plan, giving families in need a "hand up" not a hand out.
To read an eye-opening case study showing how owning a home can totally transform a family's life, even if it just means moving across the street, see this report from NPR: The American Dream – One Block Can Make All the Difference.
The Housing Need in the Athens Area
The median home value in Athens-Clarke County as of 2014 was $111,300. Using the 30 percent rule, annual income of $33,390 is required to afford a home of this value, which equates to an hourly wage of about $16.05/hour working 40 hours/week. Consequently, approximately 21,000 households in
Athens-Clarke County do not have incomes that would support monthly homeowner costs for a home of this value. Even for an $80,000 home in Athens-Clarke County, where an individual would have to make an annual income of $24,000 to afford a monthly homeowner costs without paying more than 30 percent, approximately 17,250 households could not afford to own this home.