Volunteer
Athens Area Habitat for Humanity is a non-profit serving Clarke, Oconee, and Oglethorpe Counties in Georgia with the mission to make decent, affordable housing available to all. As one of America's most trusted organizations, Habitat for Humanity achieves this mission in cooperation with partners who volunteer their time, energy, and expertise to better their own communities.
Become a Volunteer
WE GREATLY APPRECIATE YOUR INTEREST IN VOLUNTEERING WITH HABITAT. WE ARE CURRENTLY NOT ACCEPTING VOLUNTEER APPLICATIONS OR APPOINTMENTS UNTIL FURTHER NOTICE.
Volunteering with Athens Area Habitat is easy and no experience is required!
If you are interested in volunteering, you can fill out the application found below and send it in to our Outreach Director, Brad Turner. We want to get to know you so we can work together to find the best place for you to help out with Habitat.
Come stop by our office at 532 Barber Street to speak with Brad from Monday-Friday, call 706-715-6727 or email brad@athenshabitat.com to learn more or schedule an appointment.
But before you call or email, please read through the information below to get an idea of what the best volunteer opportunity may be for you or your group.
---
Here's how you can make a difference….
ReStores 
Our two ReStores are a unique part of Habitat in Athens, and volunteering here is a really great way to get on board with our mission. We are always in need of friendly, consistent volunteers to work in our stores. If you want a regular volunteer opportunity, the ReStores are the place to be- and we welcome groups of friends who want to work together!
The volunteer work involves:
Sorting donations

Identifying, organizing, researching and setting up donations for auctions, displays, and special pricing.

Grounds keeping / Housekeeping

Testing and repairing electronics

Repairing furniture and other items

Cash register assistance

Assistance in the pickup and delivery of donations
We have two ReStore locations
Both are open Tuesday through Saturday from 9 AM to 5 PM.  We ask that folks volunteer for at least two hours at a stretch.  We accept individual volunteers and groups of up to 5 at the ReStores. Applications are accepted at our main office on Barber Street, and some orientation may take place there as well, but all initial training is done at our Atlanta Highway location.
For further information on what to expect when volunteering at the Athens Habitat ReStores, view or download this quick info sheet.
Construction 
We love our construction volunteers! Building homes is what Habitat is all about, and we are so thankful for everyone in Athens who is ready to help.
Volunteering at a construction site involves general construction and renovation work directly as well as assistance with materials, tools, etc. 
Please note: Volunteering at Habitat builds is a very popular teambuilding and group activity, so we are typically booked several months in advance, especially for fall Saturdays.  To ensure that you get a spot, we ask that you contact us 6 months before your intended volunteer day. If you or your group are looking to volunteer sooner, consider volunteering at the ReStores — all proceeds from our thrift store sales go toward our mission of providing decent, low-cost housing for our neighbors in need, so you can do just as much to help out by spending a day in our stores as you can on the build site!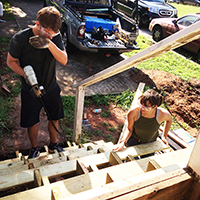 Groups of 10 to 20 may volunteer on our build and renovation sites. You'll need to be on site by 8:30 AM when the crew presents the safety briefing and gives job assignments for the day. Lunch break is at noon, and the crew begins breaking down the job site at 3:30. 
Individual volunteers with construction experience are welcome to volunteer on the weekdays. Please reach out to Brad with details about how to get started.