Upbuilding: Fall 2022
Building the Community | The Giving Spirit | Volunteer Spotlight | Local Partners | What We're Up To | Homeowner Tips
Greetings, Habitat nation! There's so much going on here at Habitat, it's hard to know where to start. While there is great need for cost-manageable housing right now, support for our mission is stronger than ever, and we're launching our most ambitious project yet. Read all about it here! And hey, if you haven't yet made your contribution to our annual fund drive, now's your chance! Just click the button at the end of the first story ….
(If you're not already receiving notice of our newsletters by email, just click here to sign up for notifications in your inbox when each new edition is published. You're free to unsubscribe at any time.)
---
Building the Community
Even folks who've lived in Athens all their lives may not know that Clarke County has had, for many years now, among the lowest home ownership rates and highest wealth inequality rates in the nation. And that's important because research sponsored by Habitat for Humanity of Georgia, among other sources, has shown that kids do better in school if their parents own their own home.
Based on what we've learned, Athens Area Habitat is launching our most ambitious project to date, one which we intend to serve as a model for similar projects across the country. Our plan, which has secured pledges of financial investment from state and federal agencies, is to transform families from renters to homeowners within a single school attendance zone and, for the first time, measure the educational, financial, and social outcomes for those families over a period of several years, through a partnership with UGA.
This new neighborhood, dubbed Micah's Creek, will offer the economic foothold of home ownership to families earning below 80% of area median income. Because the homes will be Habitat-built, buyers will have access to zero-interest mortgages, keeping their costs manageable. In cooperation with W&A Engineering, Athens Hab is designing a neighborhood that preserves tree canopy, minimizes evaporation from the creek and planned retention ponds, and conserves pathways for wildlife. Highly efficient homes will simultaneously reduce resources needed to build and maintain the houses while lowering monthly bills for homeowners.
Unlike public housing projects which are a net cost for the community, Micah's Creek will increase tax revenues while reducing dependence on public assistance payouts for homeowners. For the city, it's an opportunity to increase upward mobility for historically under-resourced populations and create opportunities for generational wealth-building which other housing solutions, such as mixed income rentals, cannot begin to approach.
Micah's Creek will also be the location of Lydia's Second Home, phase-two of a unique non-profit partnership that provides subsidized housing for formerly homeless students seeking to beat the odds by earning their college degrees. You may have read in the news that the governor's office has pledged financial support for this segment of the project as part of the state's effort to reduce homelessness in our state. We are profoundly grateful for the pending grant and are ready to roll up our sleeves and get to work to see that the funds are put to good use right here in Athens!
But even with state and federal support to get us started, we're still only about halfway to fully funding this ambitious new project. If you'd like to be a part of this effort, consider contributing your financial support in any amount. Whether you have five dollars to spare, or you represent an organization with five figures to invest, your donation makes a difference by helping us to build our community.
Together, we will do great things!

---
The Giving Spirit
Since moving to Georgia 4 years ago, the Ladies' Charity Skeet Classic national tournament has raised around $100,000 for Athens Area Habitat projects. We are profoundly grateful to this group of women from all around the country who give so generously to provide housing for people they've never even met.
In past years, the LCSC has helped fund Lydia's Homeplace, the Kinda Tiny Homes, and the Build with Strength home. In 2022 they set a new high water mark, contributing more than $40,000 to our partnership with Family Promise.
Family Promise works one-on-one with families who've fallen into homelessness in order to understand their particular situation, to develop a solution tailored to their needs and circumstances, and to keep them sheltered and fed until they can get back on their feet. The apartments that we have purchased and renovated with the support of the Ladies' Charity Skeet Classic will serve as refuges, not just for one family, but for many in the coming years whose lives will be transformed with the assistance of Family Promise.
At Athens Hab, we've always known that the power of partnership is profound. We can do so much more together than we can separately. The Family Promise homes have been among our most widely supported projects, with funding and volunteer labor received not only from the Ladies' Charity Skeet Classic and from Family Promise itself, but also from:
To learn more about the impact that LCSC has had on our community, check out this short video:
---
Volunteer Spotlight
We're so very grateful to Wells Fargo who not only made a generous donation of $15,000 to our "Home for More" project, but also sent out a whole crew of volunteers to come out and work at the renovation site. Now that's going the extra mile!
It can be a real struggle for large families to find homes they can afford. That was certainly the case for a "Brady Bunch plus one" family who came to Athens Area Habitat for help. Although they qualified for our home ownership program, we didn't have a house with enough bedrooms and bathrooms to accommodate them.
So we created the Home for More project to expand an existing home whose owners had moved out of the area and which had a large enough lot for us to add on to the structure. The work required a significant investment, and Wells Fargo was there to help through their Community Giving program which focuses on economic advancement, cost-manageable housing, small business, and evironmental protection on the local level.
Also contributing were State Farm, the Kirby Smart Family Foundation, the Georgia Power Foundation, and Rotary Club of Athens whose Plungefest 2022 raised more than $26,000 for the project. This year's Plungefest lived up to it's "Freezin' for a Reason" slogan as temperatures were a balmy 36 degrees Fahrenheit when participants took the plunge! In case you missed it, here's a look back at the insanity as it unfolded:
---
Local Partners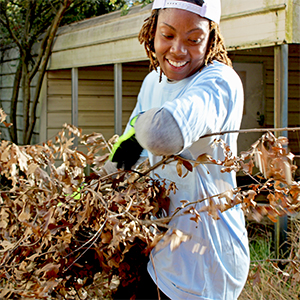 Speaking of awesome crews, W&A Engineering sent two teams of volunteers out to help clear land at the future site of Micah's Creek. (That's them up at the top of the page.)
We were proud to be named one of W&A's "charities of choice" for 2022. And as the Micah's Creek project began morphing from an idea into a reality, we were pleased to be able to begin working together to put families into homes.
What's great about W&A is their total dedication to what they do, and their commitment to serving the communities in which they live and work. Walking the land with their planners and engineers, it was clear we shared a common vision, as the conversation turned to canopy preservation, sustainable construction, protection of the water supply, and how to maintain wildlife corridors for the native fauna who share these lands with us.
All too often, when people talk about cost-manageable housing, they assume it has to be no-frills — plain looking, minimal landscaping, traditional materials and techniques. We think just the opposite. We see cost-manageable homes as the best opportunity to use the most current practices and technologies to reduce construction costs, lower the expense of home ownership, and create environments where people are happy to live. W&A shares that view, and we're excited to see what this partnership is going to create.
---
What We're Up To
After more than 25 years on the job, our bookkeeper Lee Hull has retired and is greatly missed. You know, you never really appreciate how much someone does around the place until they're gone, do you?
On the flip side, though, we've brought on some new staff members since our last newsletter. Josh Houben has stepped in as our new construction manager, and as you can see from everything in this issue, he's going to have his work cut out for him! He's ably assisted by construction superintendent Jamie Kissinger, who has also joined the Habitat team. Steve Mason has joined us as director of family and volunteer engagement, so all y'all who volunteer with us, if you haven't met Steve yet you can expect to do so in the very near future. And Brett Chandler has come on board as project administrator overseeing the Micah's Creek development, and his inbox is already crowded with work.
We also have some new interns helping us out and a few new faces at the ReStores. Don't forget, you can keep up with the finds and bargains at the stores by following the ReStore West and ReStore East Facebook accounts and the Athens Habitat ReStores account on Instagram. All purchases help us to build our community!
---
Homeowner Tips
Autumn is beautiful, but like all seasons it has its share of pitfalls. Here are three smart tips for homeowners around Athens….
Before you stow your mower: Did you know that gasoline has a shelf life? Yup, once it's dispensed, if it's left sitting too long some of the hydrocarbons will evaporate, others will oxygenate, and a substance called gum begins to form which is pretty much what it sounds like and you don't want it in your engine. So either drain your tank and lines before storing your mower or add some fuel stabilizer to the tank so it can overwinter safely.
One step for beautiful moss: If you have hard soil in a shady area where grass won't grow, one option is to let the moss take over. It's pretty, requires no fertilizer, and is resistant to pests. But if you go this route, one step you need to take is to keep the leaves off in autumn. You can give it a pass with a bagging mower, or spend an afternoon getting some exercise by breaking out the rake.
Get your flue shot: Don't wait until it's time to build a fire in your fireplace or wood stove — have your flue inspected now. There's no other way to know if you have a dangerous buildup of creosote in your flue (which can ignite at just over 450 degrees) or blockages from bird nests or debris. More than 25,000 chimney fires are set off every year in the US, causing over $100 million in property damage and around 500 deaths. So be safe and have your flue checked, and cleaned if necessary, before you light that first fire of the season.