Athens, GA, Area COVID-19 Information
• What is happening? • How does the virus spread? • What should we do? • Mandates for Athens-Clarke County and State of Georgia • What if I have the virus or know someone who does? • What if I'm caring for someone with COVID-19? • Other tips and local resources • How widespread is the virus? • Myths and misinformation •
This page brings together useful information about the COVID-19 virus within the Athens-Clarke County area, the state of Georgia, the US, and the world.
Sources: World Health Organization, US Centers for Disease Control & Prevention, Federation of American Scientists, Georgia Department of Public Health, Johns Hopkins Coronavirus Resource Center, Athens-Clarke County, nCoV2019.live Coronavirus Dashboard, and others as noted and linked.
---
What is happening?
In late 2019, a virus that infects animals began infecting humans, too. Because people have no immunity to it, the virus has spread around the world. It makes many, but not all people sick with fever and dry cough, a disease called COVID-19 (coronavirus disease 2019). COVID-19 makes some people very sick. Some have to go to the hospital, and some people die from it (currently about 7% of people who have been diagnosed worldwide). Right now, people around the globe are trying to slow the spread of COVID-19 so that there is always enough treatment and care for everyone who needs it, and to give scientists and doctors time to develop a vaccine and improve treatments.
---
How does the virus spread?
It takes a few days for an infected person to show symptoms, and some people never show any but they can still infect other people. That's why COVID-19 spreads faster than more common diseases like the flu. A typical infection lasts about 2 weeks.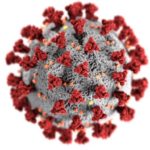 The virus that causes COVID-19 (named SARS-CoV-2) spreads in the throat, nasal passages, and lungs, and it can be carried out in droplets when an infected person sneezes or coughs, or by kissing or hugging (and maybe through tears, although we can't be sure yet). The virus can also be left behind when an infected person touches something with unwashed hands (with or without gloves) and someone else touches the same thing and then touches their mouth or nose without washing their hands first (again, with or without gloves). But from what we know right now, it seems that by far most people catch the virus through close contact with an infected person, not by second-hand transmission.
The COVID-19 virus can survive for a time on surfaces and in the air. You may hear about studies finding that the virus can stay active on metal or plastic for days, or hang around in the air for hours, but the reality in day-to-day life is more complicated and the virus tends not to persist nearly as long outside of laboratory conditions. Here is a recent Johns Hopkins article with more detail: How long can the virus that causes COVID-19 live on surfaces?
One very important thing to know:
Soap destroys the virus by dissolving the membrane that holds it together.
• You can learn more about that here: The Science of Soap — Here's How It Kills the Corona Virus
After people recover from COVID-19, they are no longer contagious. It is not yet known if recovering from the disease creates long-term immunity, and it may take several months to figure out if people who've had it can get reinfected. Per the CDC ("MERS-C0V" is a coronavirus related to SARS-C0V-2):
The immune response, including duration of immunity, to SARS-CoV-2 infection is not yet understood. Patients with MERS-CoV are unlikely to be re-infected shortly after they recover, but it is not yet known whether similar immune protection will be observed for patients with COVID-19.
---
What should we do?
Jump to: "What if I have the virus or know someone who does?"
No matter who you are, we all must work together to slow the spread of COVID-19. If too many people get sick at once, there won't be enough people or beds or medicines and treatments to take care of them… or us, if we end up catching it. That means people will die unnecessarily. Slowing the contagion also gives doctors and scientists more time to develop a vaccine and better treatments before people catch it, and it gives factories time to make those treatments and the gear that keeps health workers from catching the virus, too.
• PERSONAL HYGIENE •
This video from the World Health Organization (WHO), featuring soccer stars from around the world, explains 5 key steps you can take to be part of this global effort to slow the contagion:
Hands — Keep your hands washed with soap and water, or hand sanitizer if you cannot wash.
Elbow — Cover your mouth and nose with a bent elbow if you sneeze or cough. If using a tissue, dispose of it immediately.
Face — Avoid touching your nose, mouth, and eyes to prevent the virus from entering your body.
Distance — Stay at least six feet away from other people.
Feel — If you feel sick, stay home!
It's also a good idea to set up a quarantine area for items coming into your home, such as a porch, garage, carport, patio, or shed. Metal and plastic can be washed with soap and water. Cardboard packaging and other items that cannot be washed can be left in the quarantine area for a day before bringing them inside.
• This infographic page from Johns Hopkins gives you an overview of what to do to stay safe or if you get sick: Coronavirus at a Glance
• This easy-to-read page from the US Centers for Disease Control & Prevention (CDC) shows more about how to stay healthy, including a video on how to properly wash hands and recipes for homemade disinfectants: How to Protect Yourself
• This page from the WHO features videos and downloadable signs you can use to help inform those you may supervise about what to do: Advice for the Public
• This Johns Hopkins page gives advice for protecting kids: Coronavirus in Babies and Children
Please note that, as mentioned above, a gloved hand can transmit the SARS-C0V-2 virus just like a bare hand can. And the most common way that the virus is spread is by sneezing, coughing, and close personal contact. So gloves on other people do not protect you, except in medical settings where rigid rules are followed.
Wearing gloves can be useful, however, if wearing them reminds you not to touch your face. But remember, the virus has to get into your nose or throat to infect you. You cannot absorb it through your skin.
What about face masks?
Unfortunately, at the moment there is no clear answer one way or the other to the question of whether healthy people benefit from wearing face masks in public. Some medical professionals fear that masks may give people a false sense of security and cause them to reduce their physical distancing from others, and that a mask might cause people to inadvertently touch their faces if the mask slips or gets itchy. Here is a summary of what our sources are saying right now:
The most important thing you can do to stay safe is to keep your distance from others, so even if you wear a mask you must also follow "social distancing" guidelines.
If you are coughing or sneezing, DO wear a mask when you go out for the protection of others. This may be a bandana or a dust mask from the hardware store, but wear something to keep droplets from your lungs from being spread widely. Even if you are sneezing due to allergies, you still may have COVID-19 and not know it, so wear a mask when you go out, and even at home when you have to be near other people!
It is probably a good idea to wear a mask if you have to be in a situation where you cannot maintain a 6′ distance from others at all times, to protect you from breathing in droplets from anyone coughing or sneezing. But if you do this, please remember not to touch your face even if the mask gets irritating. And do not re-use a mask that has not been thoroughly washed or sanitized.
Do NOT stock up on N95 masks, even if you can get them. These are critical for our healthcare workers, and hoarding will only make it harder for them to get the masks they need to help us if we get sick.
If you do wear a mask, follow proper guidelines (see video below).
CDC: Recommendation Regarding the Use of Cloth Face Coverings, Especially in Areas of Significant Community-Based Transmission
WHO (for the general public): When and How to Use Masks
WHO (for health care workers and public decision makers): Advice on the Use of Masks in the Context of COVID-19
• MANDATES FOR ATHENS-CLARKE COUNTY & STATE OF GA •
Here is the May 12th message from Mayor Kelly Girtz:
To slow the spread of COVID-19, the following emergency measures are in place (click here to read the full resolution):
Persons living within Athens-Clarke County are strongly encouraged to shelter at their residence.
To the extent individuals use shared or outdoor spaces, they are strongly encouraged to maintain social distancing of at least six feet from any other person.
The Mayor and Commission further encourages persons to wear facemasks when in public, following the CDC recommendation.
Persons may leave their residence for Essential Activities, Essential Governmental Functions, or to operate Essential Businesses, as defined in the resolution.
Individuals experiencing homelessness are strongly urged to obtain shelter, and governmental and other entities are strongly urged to make such shelter available as soon as possible and to the maximum extent practicable (and to utilize Social Distancing Requirements in their operation).
All businesses with a facility in Athens-Clarke County, except Essential Businesses as defined in the resolution are strongly encouraged to cease all activities except Minimum Basic Operations, as defined in the resolution.
To the greatest extent feasible, Essential Businesses are strongly encouraged to comply with Social Distancing Requirements as defined in the resolution, including, but not limited to, when customers are standing in line.
• Here is the official page where you can keep up with all local developments from local government: Athens-Clarke County COVID-19 Information and Resources
• If you have questions about the local ordinances, or which services are still available, check out these Frequently Asked Questions.
• If you live in Oconee, please see the Oconee County resource page: Novel Coronavirus (COVID-19)
• You can read the Governor's executive order here: Executive Order to Ensure a Safe & Healthy Georgia (see update below). The ACCG has released a more reader-friendly summary that you can find here (PDF format): Shelter-in-Place Requirements from Executive Orders Issued by Governor Brian Kemp. The stay-at-home provisions are summarized as follows:
That all residents and visitors of the State of Georgia are required to shelter in place within their homes or places of residence, meaning remaining in their place of residence and taking every possible precaution to limit social interaction to prevent the spread or infection of COVID-19 to themselves or any other person, unless they are:

Conducting or participating in Essential Services;
Performing Necessary Travel;
Are engaged in the performance of, or travel to and from, the performance of Minimum Basic Operations for a business, establishment, corporation, non-profit corporation, or organization not classified as Critical Infrastructure; or
Are part of the workforce for Critical Infrastructure and are actively engaged in the performance of, or travel to and from, their respective employment.
• Here is a PDF of the Governor's order as updated on April 23rd, 2020: Executive Order
---
What if I think I have the virus or know someone who does?
*** Please note that most people who get sick from the virus, about 80%, will not need any special treatment at all and will recover at home after being sick for a few days. ***
From the GA Dept. of Public Health (GDPH):
If you believe that you are experiencing symptoms of COVID-19 or have been exposed to the novel coronavirus, please contact your primary care doctor or an urgent care clinic. Please do not show up unannounced at an emergency room or health care facility.
If you have questions about symptoms or what to do, you can call the Georgia COVID-19 Hotline: (844) 442-2681
Here is advice from the CDC: What To Do If You Are Sick
• WHAT ARE THE SYMPTOMS OF COVID-19? •
Some people who get COVID-19 won't even know they have it, because they will show no symptoms at all. It's estimated that between one-fourth to half of all infections may be asymptomatic, although the actual number is not yet known. The most common symptoms for people who get sick are fever, dry cough, fatigue and/or body aches, and difficulty breathing.
Here is what the WHO says about COVID-19 symptoms:
The most common symptoms of COVID-19 are fever, tiredness, and dry cough. Some patients may have aches and pains, nasal congestion, runny nose, sore throat or diarrhea. These symptoms are usually mild and begin gradually. Some people become infected but don't develop any symptoms and don't feel unwell. Most people (about 80%) recover from the disease without needing special treatment. Around 1 out of every 6 people who gets COVID-19 becomes seriously ill and develops difficulty breathing. Older people, and those with underlying medical problems like high blood pressure, heart problems or diabetes, are more likely to develop serious illness. People with fever, cough and difficulty breathing should seek medical attention.
Here is CDC advice on Caring for Yourself at Home.
• CAN I GET TESTED FOR COVID-19? •
UPDATE (15 April 2020): The state of Georgia has initiated a drive-up testing program for people showing symptoms of COVID-19. The Clarke County Health Department is the hub for a 10-county local area. If your doctor recommends that you get tested, you can call 706-340-0996 to see if you qualify for testing. There is currently no state testing program for people who do not show symptoms of the disease.
Virus and antibody testing are currently available at Urgent Care of Oconee. It is important to note that many tests for the COVID-19 virus and its antibodies (your immune system's response to the virus) will only show a positive result when levels of the virus or antibodies are high. So it's possible that you may have been exposed to the virus, or be in late stage of symptoms, and still test negative on these tests. To test for the presence of any level of the virus or antibodies, even early levels of the virus, or antibodies after symptoms are over, you will need a "PCR" test — the "CR" stands for a "chain reaction" process that causes genetic material to replicate so that it can be detected.

• WHAT IF I HAVE TO CARE FOR SOMEONE WITH COVID-19? •
Staying healthy gets more complicated if you have to be a caregiver. Here are some resources to help you:
---
Other Tips and Local Resources
If you need assistance that can be provided locally, or you want to offer help to others, check out this local resource page: Athens Mutual Aid Network*
To find out which local businesses are still open and what their hours and services are, check out Classic City Love.
If you need help with access to the Internet, the GA Dept. of Community Affairs has an assistance page: Georgia Broadband Deployment Initiative
If you're a business owner who's in trouble due to the pandemic, please see this US Small Business Administration website where you can get assistance: SBA Disaster Loan Assistance
Businesses can find a list of local resources here: ACC Business Resources
There is also an open Google Doc where folks are posting local resources of all sorts. Since this is an open-edit document, we cannot vouch for what is posted there, but as of right now (30 March 2020) everything looks above-board: Athens Clarke-County COVID-19 Relief
For further lists of local resources, see this page from the Athens Regional Library System: COVID-19 Resources
*Note: Athens Area Habitat for Humanity does not endorse, and is not involved in, any advocacy policies promoted on on the Athens Mutual Aid Network site.
---
How widespread is the virus?
These pages will provide you will regularly updated information on the spread of COVID-19:
In Georgia
Worldwide, with national and state breakdowns
---
Myths and misinformation
To avoid any potential confusion, we are focusing this page only on the best current research and expert advice. There is a lot of misinformation being spread. Here are some resources you can use to see if something you've heard is fact or fiction:
Added March 30th, 2020: It has come to our attention that, sadly, scammers are selling false cures and counterfeit protection gear, sending out bogus notices, and setting up phony charities. Please be careful when making purchases or donations.
---
Primary Sources
Unattributed information found on this page is sourced from one or more of the following:
Athens-Clarke County Coronavirus Updates
Centers for Disease Control & Prevention
Federation of American Scientists: Coronavirus Project
Georgia Department of Public Health
Johns Hopkins Coronavirus Resource Center
---
Photo of Georgia Theatre by John Bazemore, AP